The Internet has vastly impacted the way we conduct business. Many business owners and other professionals no longer need to work in a physical office space and employ full-time office staff. This shift has made it increasingly more common to have remote employees handle business virtually. Virtual conditions provide a new level of freedom for business owners and employees. Running the day-to-day operations can take a lot of time away from business owners and professionals who are busy practicing their occupation and developing and maintaining their business. The demands and challenges that come with running a business can often impact the owner's or employee's ability to provide quality customer service. The clear and simple solution to this is the use of a virtual assistant or virtual secretary.
What is a virtual assistant?
Virtual assistants, also known as virtual secretaries, provide various traditional office assistant services as independent workers. The services virtual assistants offer include scheduling appointments, responding to emails, updating schedules, assisting customers, and managing vendors. Improved technology such as smartphones, shared virtual calendars, and tablets/laptops enable business owners, employees, and customers to communicate effectively without ever meeting face-to-face. No matter how large or small, businesses of all sizes can significantly benefit from the services virtual assistants offer.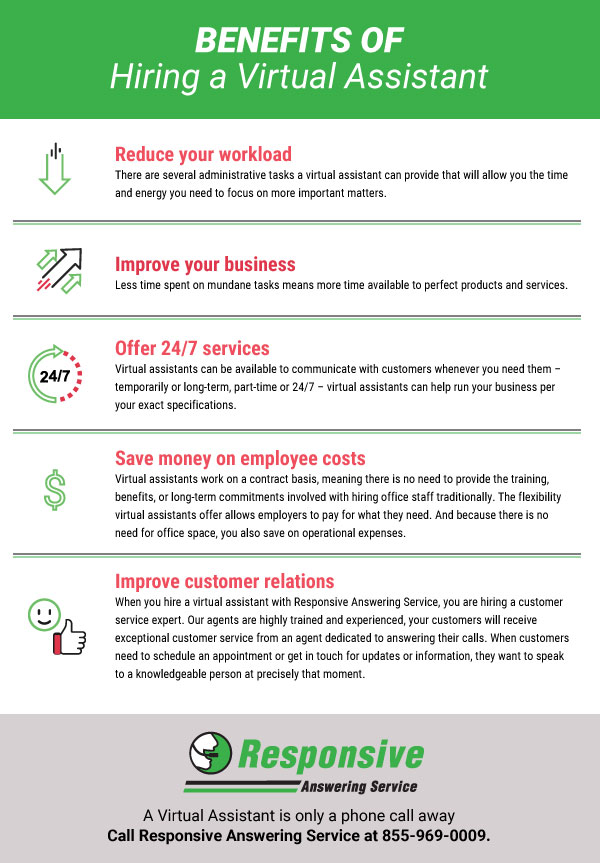 Benefits of hiring a virtual assistant
Reduce your workload
Running a business requires a lot of attention and dedication. However, there are several administrative tasks a virtual assistant can provide allowing you the time and energy you need to focus on more important matters.
Improve your business
Less time spent on mundane tasks means more time available to perfect products and services.
Offer 24/7 services
Virtual assistants can be available to communicate with customers whenever you need them. Whether you need help temporarily or long-term, part-time or 24/7, virtual assistants can help run your business per your exact specifications.
Save money on employee costs 
By hiring a virtual assistant, you get the assistance you need at a fraction of the costs related to hiring a single employee. Virtual assistants work on a contract basis, meaning there is no need to provide the training, benefits, or long-term commitments involved with hiring w-2 employees. Additionally, the flexibility virtual assistants offer allows employers to pay for what they need and not a cent more. And because there is no need for office space, you also save on operational expenses.
Improve customer relations
When you hire a virtual assistant with Responsive Answering Service, you are hiring a customer service expert. Our agents are highly trained and experienced with various tasks, including customer service. So, while you enjoy the benefits of extra time and assistance, your customers will receive exceptional customer service from an agent dedicated to answering their calls. When customers need to schedule an appointment or get in touch for updates or information, they want to speak to a knowledgeable person at precisely that moment. With a virtual assistant working as an extension of your team, no call will go unanswered.
Services a virtual assistant offers
Like a traditional assistant, virtual assistants can help you with various tasks such as phone answering, call screening and forwarding, appointment scheduling, email and fax services, and message management. Our professionals dedicate themselves to becoming well informed about your business and client base. They want to work with and help you to complete any and all administrative tasks your business requires. A virtual assistant can relay appropriate information to you through your preferred channel including text, email, phone, or fax. In addition to being on hand and familiar with your business's information, scripts, and policies, a virtual assistant specializes in customer service as well.
Cost of a virtual assistant versus hiring an employee
You might think hiring a virtual assistant is not within your budget. However, when it comes to either hiring a virtual assistant or an employee, you will find that virtual assistants are more cost-effective – consider the amount of time and money spent on job listings, interviews, background checks, training, and benefits (i.e., insurance, etc.). Businesses that have transitioned to a virtual assistant have found the cost savings to be substantial. A virtual assistant will improve your business on a temporary or long-term basis and adapt to the ebb and flow of your businesses' needs.  You can scale the services of a virtual assistant up or down to meet your changing needs, without worrying about stress and financial consequences of hiring and firing staff.
Virtual assistants can free up your day-to-day schedule, save you money, enhance customer service, and allow your business to thrive. If your business is considering moving to a virtual assistant model, contact Responsive Answering Service – we would love the opportunity to address your questions. Our state-of-the-art technology and outstanding customer service allow us to deliver virtual services at a small fraction of an employee's cost.