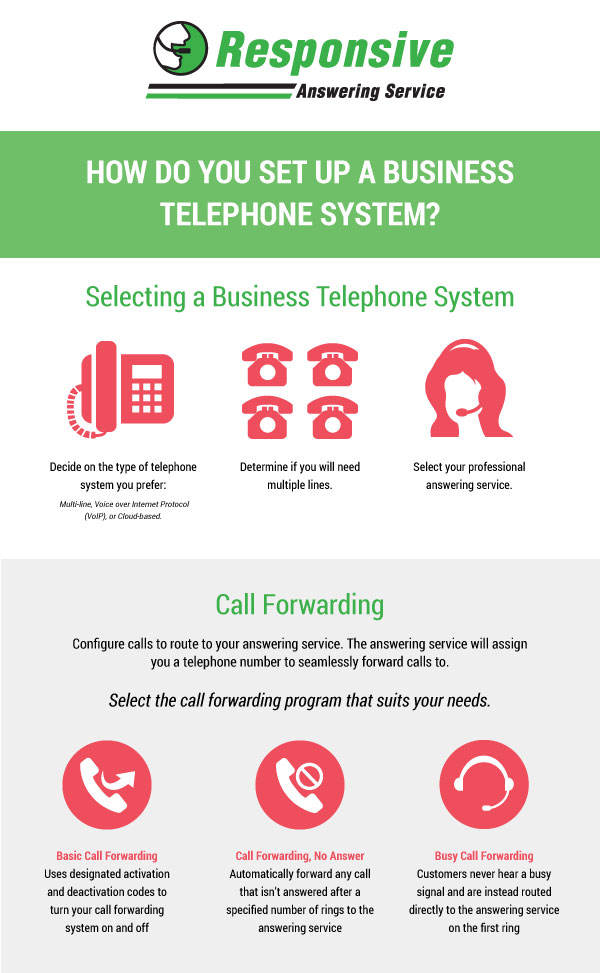 Understanding how to set up a business telephone system that can seamlessly route to an answering service is critical to the success of your company. Once you have completed the task properly, you are set to experience the growth in customers and customer satisfaction that a professional answering service provides.
Selecting a Business Telephone System
First, decide on the type of telephone system you prefer. Many small business owners choose either multi-line, Voice over Internet Protocol (VoIP), or Cloud-based systems, depending on the technology they want to use.
Whichever you choose, your advanced calling network should be able to handle the unique needs of your business, such as customer service calls and call routing to specific people. You will probably require multiple lines, which allow your employees to speak with numerous customers at a time, and conference lines, which allow for more than two people to be on the same line.
Your professional answering service eliminates the need for voicemail messages; however, you may still want to consider using an auto attendant that answers your calls and routes callers to the appropriate company contact.
Call Forwarding
Once you decide on the telephone system and the features it includes, it's time to route your business telephone system to your answering service that should field all of your calls. Depending on the type of telephone service provider and system you will be using, the configuration of the routing will differ. Professional answering services, like Responsive Answering Service, will be able to work with any existing service.
To route your telephone system to your answering service, you will require call forwarding, which is sometimes called call diversion. This feature will redirect all of the calls coming into your business to a different location – in this case, it will be your answering service.
Answering services then assign your company a telephone number that you can call forward to which syncs with their system and provides their agents with your company's profile screen when they answer your call.
You can choose Basic Call Forwarding, in which you use designated activation and deactivation codes to turn your call forwarding system on and off. This works well for businesses that only require after-hours answering services.
Or, you can choose Call Forwarding, No Answer. This feature will automatically forward any call that isn't answered after a specified number of rings to the answering service. This works well for businesses that experience a high volume of calls that staff may not all be able to answer at once.
A third option is Busy Call Forwarding, in which customers never hear a busy signal and are instead routed directly to the answering service on the first ring. This is ideal for businesses of all sizes that want to make certain their customers are always accessing them when they need to.
Things to Keep in Mind
As you are setting up your telephone system that routes to your answering services, remember to:
– Verify all codes being used because they differ from provider to provider.
– Make sure that the answering service has a customized greeting to use that is unique to your company.
– Prepare the answering service to interact with your customers so their agents have knowledge of your products and services.
Have more questions about how to set up a business telephone system? Responsive Answering Service's team of professionals can help. We have been helping businesses like yours grow for more than 40 years by providing top quality customer experiences.
Contact us to find out more about how our answering service solutions can work for your business.