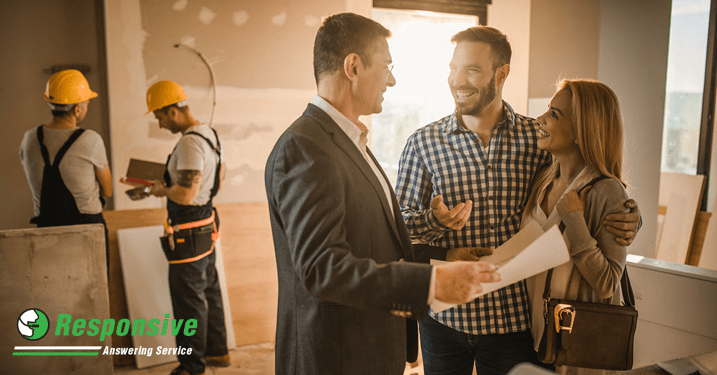 Busy contractors know the importance of never missing a call. At the same time, the demands of the job take you out of the office regularly, whether you're visiting job sites or attending client meetings. Also, chances are good that your employees are often too busy to always answer your contracting business's phone. When calls go unanswered or are sent to voicemail, you are missing out on communications that are vital to your success: calls from customers, vendors, government officials, and others. Each one that isn't answered represents a lost business opportunity.
What if you never had to miss a call? And all of these business opportunities were addressed by professional operators as representatives of your business? You can have this benefit and more – not by hiring extra employees – but by working with Responsive Answering Service. Our live operators can be trained in all of your call answering protocols and make sure that your customers and potential customers never have to deal with the frustration of an unanswered call or having to leave voicemail messages.
Responsive Answering Service's highly trained operators provide many important communications services for contractors, including:
• Professional Call Answering and Routing – When calls come into your contracting business, your Responsive Answering Service operators answer them as a representative of your company and make certain that they are routed to you and your staff as you specify. You receive messages just as you choose, via email, phone, text or pager.
• Efficient Dispatching – Responsive Answering Service operators trained in your protocols can quickly and efficiently send your staff where they are needed when they are needed.
• Appointment Scheduling – Our operators can sync with your online calendar to schedule your appointments. We continually notify you each time this is done and you never miss an opportunity to meet with those most important to your business.
• Comprehensive Inbound and Outbound Lead Calls – Industry research shows that the more quickly inbound leads are addressed, the more likely they will turn into new business. Our operators are trained to do precisely this, as their goal is to turn each contact with your contracting business into new business for you. Responsive Answering Service operators can also handle the servicing of your outbound lead calls with the same goals.
• Available 24/7/365 – Responsive Answering Service's trained operators are available around the clock every day to handle your calls just the way you would like them to.
• Bilingual Call Answering, Routing, Dispatch, Appointment Scheduling, and Lead Capture Services – All of our services are available to you in both English and Spanish to make certain that you can grow your business within the Hispanic community.
Responsive Answering Service Provides Professional Services for Contractors
At Responsive Answering Service, our experienced operators will become an extension of your contracting and building business. We have live operators available all day, every day to handle your business calls the same way you would and when you partner with Responsive, you will set up the protocol our operators will follow for your business. We understand your calls are important; answering machines and automated systems are not what your customers are looking for when they call you.
Contact us to discuss how we can help you best manage the calls that are most important to your contractor business.