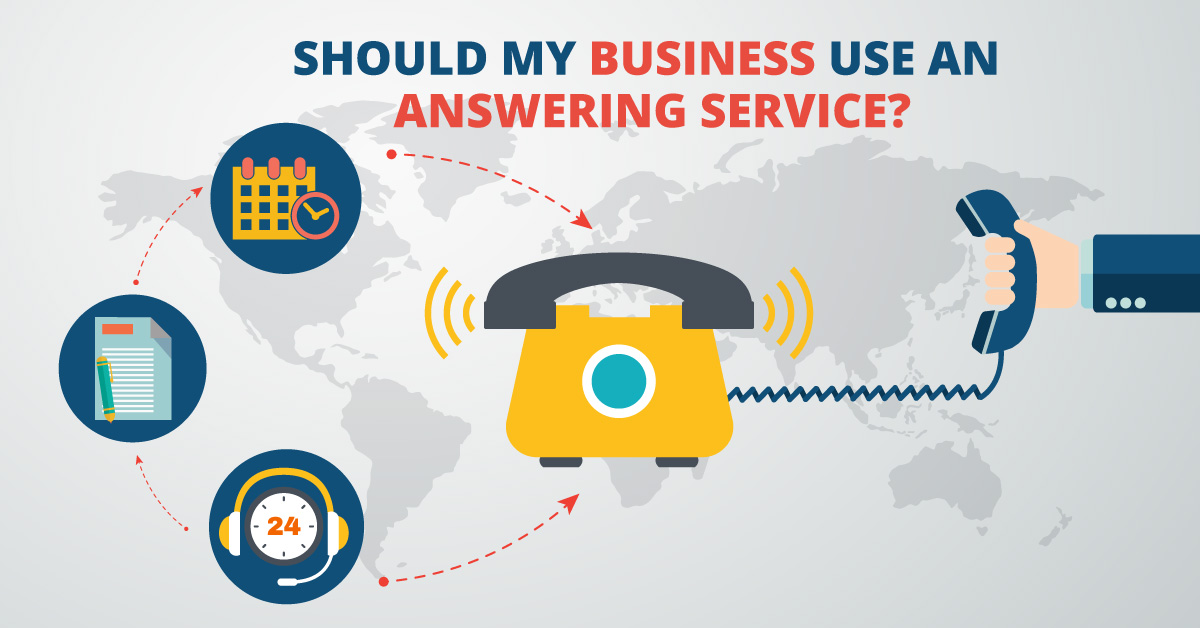 At its core, an answering service is a business that receives and answers telephone calls for its clients. Answering services can assist any type of business that relies on phone communication with its customers – which is to say, nearly all businesses.
Businesses utilize answering services for a variety of needs, including taking all calls in place of a receptionist, fielding calls from customers during after hours, or handling call overflow during peak business hours or seasons. In addition to answering telephones, an effective modern answering service offers other telecommunication services including e-mail, fax delivery, voice messaging systems, and cellular text messaging.
The telephone service representatives employed by an answering service are trained in the art of phone communication and fluent in each client's specific protocols, such as preferred greeting, customized scripts, and pertinent information about the business. Depending on the needs of the business and customers, representatives can answer questions, schedule appointments, update customer information, and report all calls to the client.
Reasons Your Business Should Use an Answering Service
Here are just a few of the reasons that you should use an answering service to optimize your business:
1. Gain new customers and keep existing customers. Having an answering service for your business guarantees that you will never miss a call. A caller encountering a busy line or unanswered call is a lost opportunity, as most callers will usually move on to a competitor in these cases. It has been proven that a dissatisfied customer will tell an average of 11 people about a negative phone experience, which means that a missed call will ultimately translate into a much bigger loss.
Even if your business employs a receptionist, having the additional coverage of an answering service ensures that your customers' calls are answered during busy times, lunches, company events, holidays, weekends, and nights.
2. Save money. An answering service is a cost-effective solution for all types of businesses of any size. With the assistance of an answering service, you will increase the quality of your company's customer service without spending the money required to hire new staff or install additional phone lines. The cost of using a phone answering service is just a tiny fraction of what you would need to spend on employee training and related costs such as employee taxes.
3. Save time. An answering service will free up your schedule, allowing you and your employees to perform the important work you need to accomplish. Using an answering service will increase your business' productivity by allowing you and your staff to focus on meeting the customers' primary needs and growing the business instead of being tied up in answering and returning calls.
4. Provide coverage for emergency response needs. Some businesses, such as medical services, need to respond to emergencies at all hours of the day. For these businesses, an answering service is the solution for 24/7 emergency response. Businesses can work with an answering service to establish what qualifies as an emergency and ensure representatives adhere to the specific guidelines set forth for emergency dispatch procedures.
5. Establish instant credibility and project a professional image. When redirected to an answering service, customers will communicate with trained professionals skilled in telephone customer service. Additionally, each representative's training is tailored to your company's preferences. With the help of an effective answering service, your customer may not even realize they have been redirected, but will instead assume that they are talking to a member of your staff. A promptly and professionally answered call will provide the impression that you run an established and successful business.
If you would like to enhance your business in these ways and many more, Responsive Answering Service is the right answering provider for your company. Responsive Answering offers a wide range of flexible programs that can be customized to fit your needs — whether it is answering all of your calls 24 hours a day, seven days a week, or simply handling your overflow during lunch hours. Responsive Answering's courteous, professional, and multilingual representatives will satisfy all your notification needs. For telephone answering solutions, call us today: 1.855.969.0009.