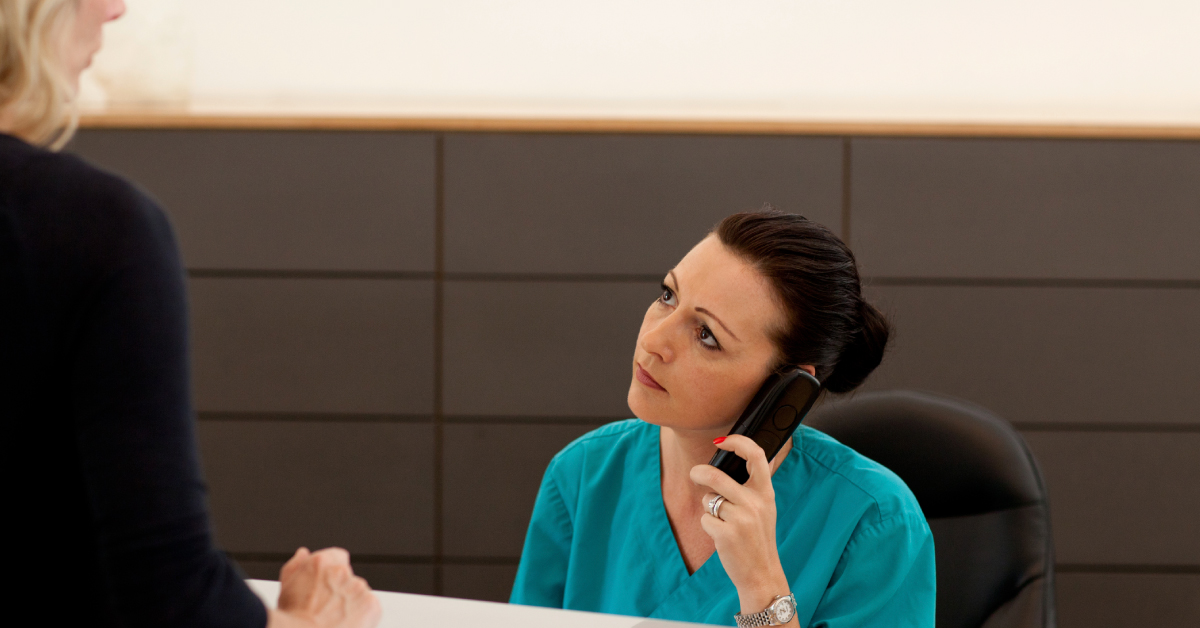 Patients call medical offices for a variety of reasons: to schedule appointments, ask medical questions, discuss prescriptions, and sometimes to report medical emergencies. Accordingly, most medical offices contend with a constant stream of calls throughout the day. This high volume of calls can lead to unanswered or unreturned calls, resulting in frustrated patients. Routine scheduling and confirmation calls can also tie up phone lines and take up valuable employee time that could be dedicated to more pressing concerns.
In the era of the Affordable Care Act, medical offices are even more concerned about effective telephone customer service, as physician payments are based in part on patient satisfaction ratings. A customer who cannot get through or who must wait for a return call is much more likely to provide a negative satisfaction score.
In 2013, experts estimated that "Phone calls to physician practices increased between 25 and 50% since 2008." This growth is in part due to the Affordable Healthcare Act, which has provided more people with the ability to make medical appointments. Additionally, the number of per capita prescriptions has been on the rise, which means even more patients tend to call medical offices with questions about medications.
Scheduling appointments is a particularly important and time-consuming process for medical offices. On top of patients wanting to make appointments, medical offices often receive calls from patients who want to cancel, confirm or reschedule their appointments. Time- and money- consuming cancellations can increase if the medical office is too busy to make time-consuming, yet effective reminder calls. These telephone issues can be greatly magnified if a medical office is understaffed.
HIPAA Compliancy
Along with the sheer volume of calls received by medical offices, the need for Health Information and Portability and Accountability Act (HIPAA) compliancy poses a challenge and potential risk for medical offices. Any medical provider that has access to patients' protected health information is required to abide by HIPAA's Privacy and Security rules. These rules require medical personnel to use "reasonable and appropriate safeguards" when discussing a patient's medical information over the phone or by any other means of communication. Furthermore, HIPAA's Privacy and Security rules define specific, legally binding guidelines about what kinds of patient information can be shared with certain individuals or entities. In most cases, health record information cannot be disclosed without the patient's authorization.
HIPAA compliance requires a great deal of attention and can make assisting patients even more difficult for medical office personnel. Unfortunately, an overworked or poorly trained medical office staff may be more likely to commit inadvertent privacy breaches, which can lead to criminal or civil penalties such as fines amounting to hundreds of thousands to millions of dollars. Additionally, any organization handling electronic communication about a patient's medical information must be sure to take health data security measures, such as implementing malware and encryption on communication devices.
Answering Service is the Solution
One effective way to assist medical office staff is through an answering service, which will help alleviate busy phone signals and unanswered calls with the use of 24/7 chat capabilities, trained professionals and multi-lingual representatives. With an answering service in place, patients can communicate appointment information and other concerns even after the office is closed. An answering service can also provide appointment reminder calls that will reduce cancellations and ensure a consistent schedule.
With calls and scheduling covered, medical office staff will be able to assist patients in the office rather than having them wait as they take a call. Moreover, there is no need to worry about patient privacy or security: an effective medical answering service offers HIPAA- compliant security measures and trains telephone representatives in HIPAA-compliancy guidelines.
Is your office staff overwhelmed? Are your patients not getting the attention they need? Take a few minutes to contact Responsive Answering Service today to discuss the many ways our representatives can help your booming medical practice.