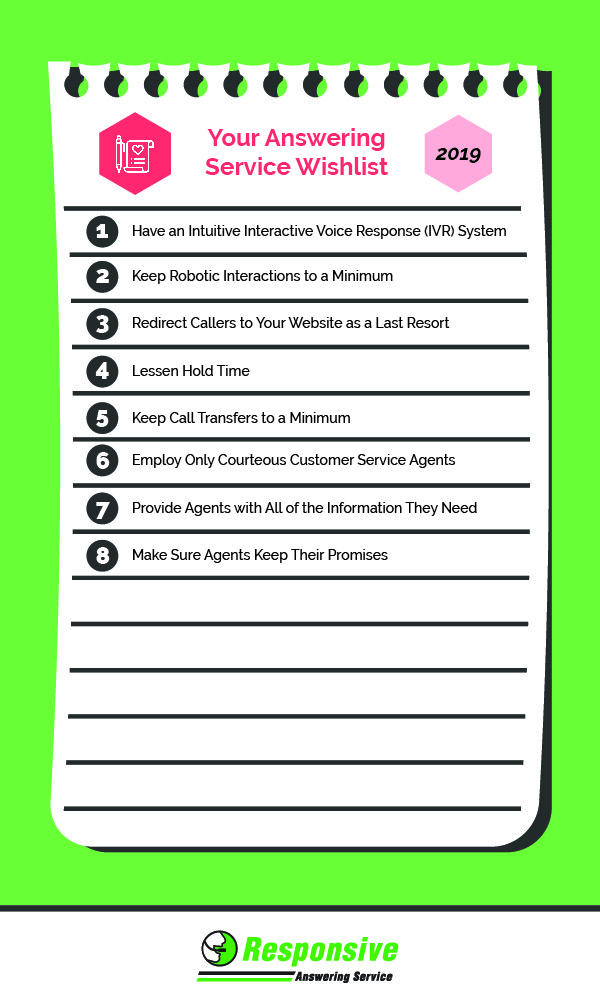 Almost everyone has had the unfortunate experience of speaking with a customer service representative that is unhelpful. However, this hasn't stopped most consumers from using the telephone to communicate with companies, as it still many customers' preferred forms of contact. With this in mind, you don't want your company to be the one your customers hesitate to call. Instead, make sure your customer service is helping you to retain customers and increase sales.
Consider this answering service customer wishlist of what to do to make sure that every contact your customers have with your company's answering service is a positive one:
Have an Intuitive Interactive Voice Response (IVR) System – When you have an IVR system with simple and clear choices that easily guide customers to the right department, your company provides a great first impression.
Keep Robotic Interactions to a Minimum – Customers prefer speaking to live operators, so make sure to keep automated customer service functions few and far between.
Redirect Callers to Your Website as a Last Resort – For a customer to call your company and then be directed to your website for service instead is very frustrating for the customer. It would be wise to make sure that customer service issues can be handled both ways.
Lessen Hold Time – Impress your customers by keeping their wait time to a minimum. They will appreciate your respect for their time
Keep Call Transfers to a Minimum – Train your agents to handle multiple customer service issues to avoid having to transfer calls to other departments. Allowing one representative to listen to all of a customer's concerns prevents the caller from having to repeat their issue.
Employ Only Courteous Customer Service Agents – Focus on hiring agents that are patient and empathetic with callers. Your customers will appreciate your courteous agents and be inclined to use your company's products and services more often. You also are more likely to get positive reviews on social media when you have courteous staff, rather than be called out for having rude employees.
Provide Agents with All of the Information They Need – Customers call your company for all kinds of information. When your staff doesn't have it, they are understandably frustrated. Make sure that you have prepared your staff with everything they need to answer any customer questions.
Make Sure Agents Keep Their Promises – When your agents promise to call a customer back with the answers they are looking for, make sure they do so. Customers will understand how important they are to your company and trust your staff to solve their problems.
Responsive Answering Service Provides Professional Answering Service Customer Service
For more than 40 years, Responsive Answering Service has provided exemplary customer service for companies in many industries, including medical, legal, transportation, real estate, and property management, construction, government, travel, and charities. We have live operators available all day, every day to handle your business calls the same way you would so you do not have to rely on answering machines or automated systems.
Our state-of-the-art equipment and highly trained staff allow us to make sure your customers are treated the way you want them to be. Contact us to find out more about how we can help you best manage the calls that are most important to you.